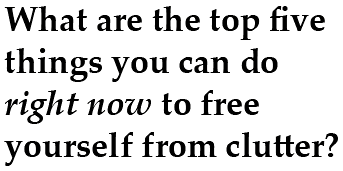 Having multiples of something can give a great sense of security, and it can be fun to collect things. But do you really want a collection of measuring cups? And are those extra sheets in your linen closet ever going to do anything but smell musty? Pare down those extra, under-used items.
Target:
Kitchen extras, like measuring cups and spoons. If you must have extras, limit yourself to one set and put it in a box on a high shelf.
Linens, including towels, sheets and pillows. As a rule of thumb, you should have two sets of towels (bath, hand and wash cloth) for each person in your household, and no more than two sets of sheets for each bed.
The Smart Slant:

As you weed out the duplicates, think of people and organizations that might still get some use out of them. Soup kitchens, local cooking schools and senior centers would all welcome extra kitchen utensils. Homeless and women's shelters could use any extra blankets, linens or towels. If they are not in good enough shape to be donated, consider recycling towels and blankets. Your local car wash or veterinarian would likely welcome the towels, while moving companies always like having additional blankets on hand. You should also keep a couple of old blankets in the car just in case.