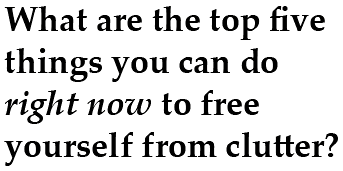 If it's still good, but doesn't fit or you haven't used it in two years, it's time to turn what's old for you into a gift for someone else.
Target:
• Clothing
• Accessories (eyeglasses, hats, handbags, etc.)
• Sporting equipment
• Computers and office equipment (outdated but functioning)
• Books
The Smart Slant:

Organize a get-together with friends to exchange unwanted items. You never know who might have admired that sweater from afar!