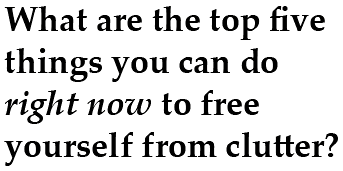 We all have things in our lives and businesses that were once useful but have since been replaced with a newer model that's more fashionable – or includes more functions. The older items tend to sit around in boxes, drawers and corners waiting for some decision on what to do with them.

Target:
Electronics, such as cell phones, fax machines, VCRs and other items that you are unlikely to use again – and that also are of no apparent immediate use to someone else.
Cables, jacks and wires that are not identifiable (label the ones you need to keep).
The Smart Slant:

Consumer electronics stores like Best Buy usually have places where you can leave old electronics for safe recycling. Some cities also sponsor regular electronics recycling days. Avoid identity theft by wiping data from anything with a memory. Check with your favorite thrift store to see if they will take your old cables, jacks and wires; someone may be looking for a replacement!