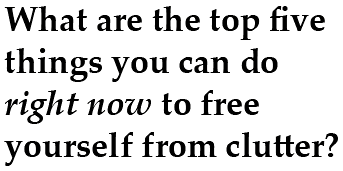 We accumulate information like nothing else. Some things will never be used again, but others could be useful – if only they could be found and accessed. Scanning and digitizing them makes them far more accessible.
Target:
Photos by scanning and organizing them into virtual albums. These can be shared with family members and friends who will also treasure them.
Recipes can also be scanned and organized. Some software
Articles, tips and lists are great candidates for scanning, too; you can set them aside to read later on your mobile phone, tablet or computer.
VHS tapes, slides, audio cassettes and other outmoded formats should be converted to computer files or some other format that you can use now.
Drafts, memos, old routine email and other by-products of work or correspondence should be discarded once a project is finished to make it easier for you to find the things you really need.

The Smart Slant:

Digitizing your photo collection may help you reconnect with people who have played important roles in your life. Send that digitized photo with a note to an old friend or reminisce with aging parents through a slide show of their lives.